Valentine's Day Baby Announcement Ideas
Use a Valentine's Day baby announcement to share your proudest moment. Although it's true that any kind of announcement will do, it's way better if you can have a little fun doing it, and using Valentine's holiday can provide you with the perfect inspiration.
Whether you're looking to share your big news with your wider network on social media or you're looking for a more special announcement for your closest family members, these Valentine's Day birth announcement ideas will announce the birth of your little one in an unforgettable way.
Valentine's Day baby announcement ideas on Facebook
There are so many ways to get the word out when you have a baby due on Valentine's Day that many of your Facebook friends are already waiting in anticipation when the big day arrives. Give them a fantastically visual Valentine's Day due date announcement and wait for all the comments and warm wishes to roll in!
Spell out all the details
There's so much information to share about your new little bundle of joy. From the time of the birth to how much your little munchkin weighs, you can convey all that information with this cute idea! Keep with Valentine's theme and surround your baby with heart candies and rose petals, or wrap him or her in a cloth that's covered in little hearts.
Keep it simple
If sharing so much personal information online makes you a bit nervous, there's no reason why you can't keep things simple. A visual February due date announcement, like this one, is perfect for Facebook because it shares your little one's name, and that's it. Because it offers such a simple solution to your baby's announcement, it can easily be customized for Valentine's Day.
Baby delivery
Want to have a little fun with your Facebook announcement? Why not post a picture like this one! You can keep with Valentine's theme by including Valentine's card, candies, or flowers in the picture.
Stealing your heart
Here's a funny and clever idea for a Valentine's Day baby announcement. Why not make your little guy or gal look like a thief? After all, your little one has stolen your heart this Valentine's Day!
This is the perfect way to announce the birth of your baby because it's funny and it shares essential birth information, like height and weight.
Valentine's Day baby announcement ideas with siblings
A February baby announcement is more than just a birth announcement. It's actually announcing the growth of your family, so why not get your other children in on the action?
Here are a few great baby announcement ideas that allow you to take a few snaps with your baby and his or her siblings.
Playmates
This is a cute idea for a birth announcement because it allows you to get another child in on the action. This one is an especially good idea for Valentine's Day because it features a heart-shaped train track.
Special delivery
The new arrival isn't just your little Valentine. He or she makes the perfect Valentine's gift for a sibling! This is a cute Valentine's idea, but it would be even cuter if the tag reflected the holiday by saying 'Happy Valentine's Day'!
The first meeting
Capturing the moment when your child meets his or her sibling for the first time is special. Why not share that moment as the perfect birth announcement?
Posed photos
You don't have to be overly smart about including siblings in your baby's birth announcement. Posed photos are a very good idea because they can be used in a Valentine's Day card announcement, but they also make great keepsakes.
You'll want to make a few extra prints to hang on the walls.
Other picture ideas for a Valentine's Day baby announcement
There are a lot of great ideas out there when it comes to Facebook and including siblings in your birth announcement photos, but that's not all! Here are a few other picture ideas that are perfect if you're interested in sending out a traditional birth announcement card.
Valentine's poem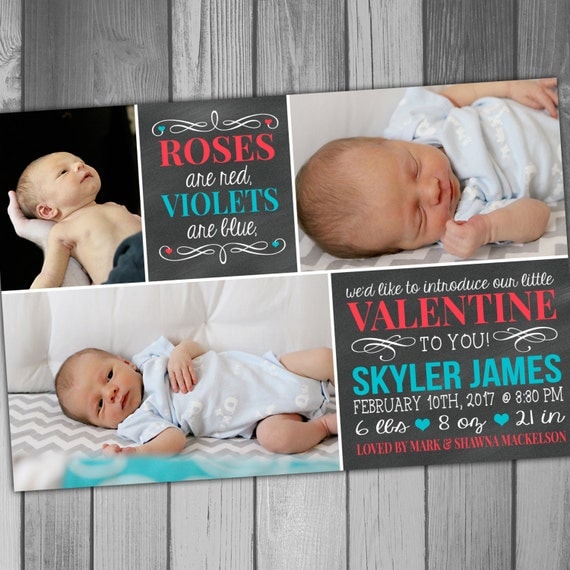 This idea is a lot of fun because the cute Valentine's poem is what makes it unique. All you have to do is include a few favorite images of your new bundle of joy.
Heartbreaker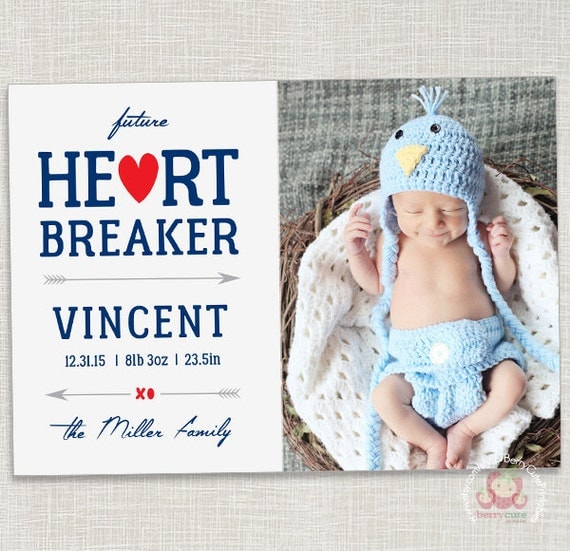 Did you bring home a little boy or girl on Valentine's Day? Let everyone know that he or she is going to be a heartbreaker with this cute announcement card idea.
Magnet Keepsake
Use one of your favorite snaps and create a magnet announcement that family members will treasure forever. Not only is it one of the best Valentine's Day baby announcement ideas for grandparents, but it also makes a great gift because it is a functional refrigerator magnet.
At home
You can always use an image from a home birth as a birth announcement, but you can also take a more thoughtful approach instead. This fun Valentine's Day baby announcement at home chronicles the birth of your baby in three steps, culminating with the photo of you and your new Valentine.
The best part is, it can all be done in the comfort of your own home!
Special delivery
Your new Valentine is a very special delivery, and this cute image makes that obvious! It makes the perfect standalone image if you want a single picture to do all the talking on your announcement.
Additional information can be included on the back.
The perfect Valentine's Day baby announcement
When it comes right down to it, the perfect announcement is whichever one you pick. After all, everyone will be so excited about your news that they'll be thrilled, no matter how you decide to share it! However, you can create some great keepsake images, in addition to announcing the birth of your baby, if you pick your announcement from this list of Valentine's Day baby announcement ideas.